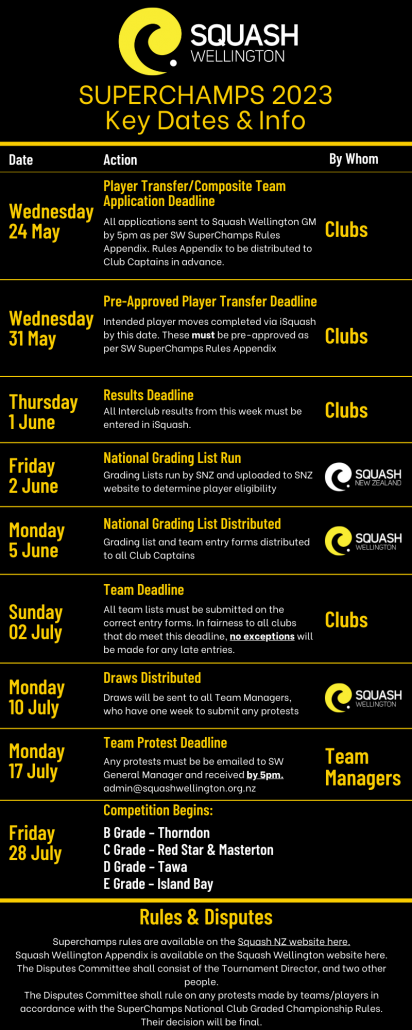 SuperChamps 2023 Player Transfers
Wednesday 24 May – Player Transfer/Composite Team Deadline. 
Process: 
Read Appendix linked here
Complete desktop/mobile/tablet-friendly form linked here (only works if you have Gmail/Google account. Otherwise, use Word format form linked here and email directly to admin@squashwellington.org.nz. Please do not use cloud services to share/email)
Panel to review all applications.
Please note that all SuperChamps players transferred during this time period need an application, for purposes of fair play and transparency. It's fine to include screenshots of emails, explanations of homegrown status or other relevant player history in evidence box. Some players may be transferring from a code in another district, or returning to their home club. Regardless, please send in an application – the form should take between 2-5 minutes to complete. As this is the first year of this process, we will do our utmost to accommodate all requests, we just ask that applications are completed as outlined here.
Wednesday 31 May – Pre-approved Player Transfer Deadline
Once the panel has reviewed applications, you will be asked to submit a transfer via iSquash, if you haven't already done so. 
If you haven't heard back by this date, please get in touch to ensure players are transferred prior to grading list being run by Squash NZ. 
2023 SuperChamps Draws
Draws to be published below.
E Grade @ Island Bay
Women's E grade draw
Men's E grade draw
D Grade @ Tawa
Women's D grade draw
Men's D grade draw
C Grade @ Masterton & Red Star
Women's C grade draw
Men's C grade draw
B Grade @ Thorndon
Women's B grade draw
Men's B grade draw