Nominations are open for the 2022 Squash Wellington Awards.
Squash Wellington Awards Information booklet
All nominations must be completed on an official nomination form. Click on the award below to start your nomination.
Closing date 30th September 2022
The following awards are District and National Awards. Nominations must be completed on the correct nomination form and must be endorsed by your Club Committee.
Closing date 30 September 2022
All District winners of the following awards will be submitted by Squash Wellington to Squash New Zealand for the National Awards.
Other awards – awards will be determined by iSquash statistics
Most competitive player
Most competitive club
Most Improved Junior and Senior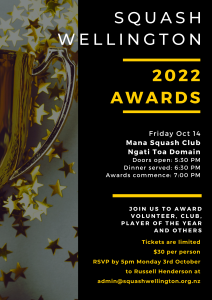 TIMELINES
Nomination closing date: 30th September 2022
Juding panel meet to decide winners: Tuesday 4th October
Finalists announced via social media: Friday 7th October